Macomb County, Michigan Queries Page 11
Begun January 1, 2008 - Present
HINT TO LOCATE THE QUERY YOU ARE LOOKING FOR! In most windows, click on EDIT and look for the FIND feature. Enter in a keyword you are seeking. FIND will locate and highlight the word you seek. Click NEXT to see if there are more!
I invite you to enter a query for your Macomb County ancestors. Since all queries must be manually posted by me, I ask that you PLEASE adhere to the following guidelines.
Your query must have a Macomb county connection or it will not be posted.
Please put "MACOMB COUNTY QUERY" in subject line. I maintain 3 counties and this helps tremendously!
Please be sure to include your full name in your letter. Mailing address is optional.
Enter your query information exactly as you want it to appear.
Every effort will be made to post your query within 24-48 hours, however no guarantees are made.
DATE: 03 January 2008
NAME: Patricia Secord
I'm researching two ancestors that died in Macomb County, Michigan. They are a husband and wife; Newton Wilson and Eunice Bratin WILSON. Newton died on January 26,1863; Eunice died on January 27, 1863. As they passed away within a day of each other, I was wondering if there was any type of contagious illness in the county early in 1863. Thank you for any info on this.
Patricia Secord
---
DATE: 16 January 2008
NAME: Jacynthe Touchette
Looking for names of parents of Olive PELTIER, born 1845, Michigan. She married Ferdinand BRUNET Sept. 12, 1864, Marquette, Michigan. It is suspected that Antoine Peltier and Angeline Jacques are her parents, but unclear. Thank you.
Jacynthe Touchette
---
DATE: 14 February 2008
NAME: Vanessa J. A. Warbler
Henry Will/ Wills b. ca. 1809 Germany
Catherine b. ca. 1814 Germany

(children)
Margaret b. 1832 Germany
Mary b. 1834 Germany - m. 09/01/1852 to Gottlieb Wappler, d. 1874 as Mary Wills Wappler, Copper Falls, Keweenaw County, MI

Catherine b. 1837 Germany
Elizabeth b. 1841 Germany
Henry b. 1846 New York
Michael b. 1848/9 Michigan - m. 1900 Catherine Berger, Utica, Macomb Co. MI
Philip b. 1852 - d. 10/14/1875 of typhus in Warren Twp., Macomb Co. MI.

I am a direct descendent of Mary 1834-1874; she is my great-great grandmother. Came from Hamtramck, Wayne Co., Michigan to Warren Twp, Macomb Co., MI sometime after 1870 but before 1875. Thank you.
Vanessa J. A. Warbler
---
DATE: 14 February 2008
NAME: Gene Deal
Looking for descendents of Goldie WEIER and Paul VOLKER who lived in Macomb Co. in 1930. Possibly had a daughter, Nancy. Goldie's parents were Clara PRIEHS and Gustave WEIER. I have information on Arnold C.Weier, brother of Goldie. Arnold worked for China National Airline Corporation and died in Kunming, China in 1949.
Gene Deal
---
DATE: 21 March 2008
NAME: Jeffrey W. Bowers
I am looking for information on Fred BROWER and his family who lived in Macomb County during the 1920 Census. Fred or Frederick was born in 1845 Germany; immigrated to USA in 1869 with his wife Minnie (born 1843 Germany); son William Brower (born 1869 Germany). Reportedly there were two children born in USA: daughter Wilhelmine, and son Frederick.
Jeffrey W. Bowers
---
DATE: 21 March 2008
NAME: Frank J. Fazekas
Seeking information on McGuffin Family of 1850: Adelyn born 1850;Ann also born 1850; Cordelia, b 1848; Margaret, 1851;Mary 1856; Lousia (Cary) 1860; Jessee 1862; Merbal 1864; Bertha 1869; and Blanche 1873. All girls raised in Memphis, Richmond area. Parents were George McGuffin and Jane Wright. Thank you for any assistance.
Frank J. Fazekas
---
DATE: 28 May 2008
NAME: Vic Taylor
I am the great grandson of Ransom Sylvester CLARK (1855 – 1944) who was living in Romeo and Lennox, Macomb, MI in the 1880's. I am interested in any information about this family but I am especially interested to know about his father and grandfather. I believe his father was Timothy who served in the Civil War. Ransom had one brother (Augustus G) who lived in Romeo in 1880 and three sisters as follows:

Olivia (married John Elliott)
Cynthia (Married Truman Hastings)
Sylvia (married Andrew Ward) Rosethia (married George Slocum)
Clarissa (married Charles Harris)
Thanks!
Vic Taylor
---
DATE: 28 May 2008
NAME: Dennis Norton
Aaron BLAKE and Annie HOLBROOK were married in North Carolina in 1865. Aaron was from Saginaw County, but at some point they ended up in Memphis, Macomb County, Michigan, where Annie died June 14, 1886. Where is Annie buried? Aaron was in the 23rd Michigan Infantry during the Civil War and became a member of the Macomb Chapter of the G.A.R. about 1895. Annie was married to a Holbrook before her marriage to Aaron BLAKE. Some records indicate a possible name for Annie of HAZELTINE ANNA JOHNSON, of Raleigh, Lincoln Co., NC. What happened to the first husband whose name was probably John F. HOLBROOK Sr.? Some of the HOLBROOK family may have followed her to Memphis, and then may have gone on to Saginaw when Aaron moved to Saginaw not long before his death. Did Annie have family in the Memphis area before her marriage to Aaron BLAKE? Did Annie's husband – HOLBROOK – have family in the Memphis area? John F. HOLBROOK was the son of Annie from her first marriage. His wife and family may have been from the Memphis area. Any help with this family, or relatives and in-laws of Aaron BLAKE, Annie HOLBROOK (or Hazeltine Anna JOHNSON) or John F. HOLBROOK would be greatly appreciated.
Dennis Norton
---
DATE: 02 August 2008
NAME: Donna Conway
Am seeking information regarding Half-way city (Eastpointe). My Mother was born there, in 1917, in a home, "next door to the ice-house". I have been unable to locate this, nor to obtain property rec. about the owners. I am hoping it will help, in an on-going search, for my Mothers maternal family, surname of O'CONNOR. Any help would be appreciated. I have spoken with the Historical Society, there, and they have been unable to locate it, either. Thank you-
Donna Conway
---
DATE: 02 August 2008
NAME: Louise Joslin
I am trying to find a marriage between Samuel A. JOSLIN and Sarah E. MILLERThey might have been married around the late 1860's in Macomb County. Is there anyway I could find this out over the internet. I have looked through the Dibean marriages. Any help would be appreciated. Thank-you,
Louise Joslin
---
DATE: 02 August 2008
NAME: Ginny Siggia
Seeking WARREN, Charles, b 1867 in Michigan. Parents' names unknown; census records say his father was born in NY and mother possibly in England (conflicts). He married Annabelle (Belle) Clukey in 1893 and they lived in Mount Clemens for some time. I'm searching for Charles' death date; it was sometime between 1920 and 1930. My father's notes say he died in Coldwater (Branch County) in 1926 or 1927 but the county said they didn't have a record of this. (I do know that Belle died in Miami in 1952; got death cert.) Thanks,
Ginny Siggia
---
DATE: 02 August 2008
NAME: Brett Combs
I am looking for JOHN BROUGHTONand his son Luke. Luke was married to Eliza Rall and a second marriage to Helen Parker. The time frame would be anywhere between 1828 to 1924. Any help would be greatly appriciated.
Bret Combs
---
DATE: 02 August 2008
NAME: Wayne Shaw
Looking for the father of James MESSMORE of Macomb County, Michigan. James was born in 1854, the son of Emily Elizabeth Parker Messmore who later married Henry P. Mitchell. James died in 1914 and is buried in Utica Cemetery. James's grandson, Howard O. Messmore Jr., married Alice Delores Broadbent.
Wayne Shaw
---
DATE: 02 August 2008
NAME: Lynda Norgrove Plotinski
I'm looking for information on FRANK EUGENE DAVIS who was the first husband of my great grandmother, HATTIE (HARRIET) RICE. They were married on 2 April 1883 in East Tawas, Iosco, Michigan. He listed his place of birth as "Rich, Macomb Co, Michigan" He was about 24 at that time. Thanks you for any information you can provide.
Lynda Norgrove Plotinski
---
DATE: 28 August 2008
NAME: Cynthia Carrick
Heath and LaForest Families

Seeking information on George Washington HEATH (1816-?) who married Ellen HAVERS in Nov. 1883 in Macomb County. Both were widowed, and Ellen showed up on the 1900 census for the Flint area as a widow again with the last name of Havers. What happened to George? Mrs. Havers was the mother-in-law of George's son Horace.

Also seeking parents of Phyllis LA FOREST born in Ontario in 1841, married Anthony THOMAS in Marine City in 1856, was widowed in 1883, and died in Marine City in 1918. Several sources tell us her parents lived in Macomb County after leaving Canada.


Cynthia Carrick
---
DATE: 28 August 2008
NAME: David St.Amour
I am looking for ancestral links to the family of Jeddian St.Amour.I am searching for my Canadian ancestors of the late 1800's. My Fathers relation came here with the Canadian logging camps and decided to stay here and raise a family .Eventualy the family came down to River Rouge MI. The information fades off because My Father ,the last direct decendant died with the information needed.

My Father was Leonard Earl St.Amour (sr) born 10/31/1915 ,deceased 7/20/1971 He was born in Alpena MI. To Jeddian St.Amour and Amelia (her maiden name I was told is Linnenfeltzer) Both of them I can not find records on. I would appreciate any information or link you may be able to provide to me. Thank you for your time.


David St.Amour
---
DATE: 02 August 2008
NAME: Shirley Johnston
Seeking information about Aura D. NICHOLS, born 19 November 1894 in Michigan. Parents were Frank and Louise Nichols. Aura married Anna LUDDEN on 26 April 1916 in Detroit. Anna's mother was Agnes Ludden. Aura died in January 1986 in Macomb County, Michigan. Thank you.
Shirley Johnston
---
DATE: 19 September 2008
NAME: Mark E. Cooley
I am looking for any known relatives of Abraham Cooley including information on his first wife Sarah J. Cooley and her parents or siblings. I am especially interested in any possible information on Abraham's Parents, Brothers, and Sisters who might have lived in Macomb County, township of Richmond Michigan, and or any of the included towns of Macomb County from 1870 to 1910. I am aware of Abraham's unfortunate demise and events. I have limited information on his 5 sons Maitland, Andrew, Myron, Frank, and Asa and an adopted daughter Ada. I would sincerely appreciate any information on them as well. It is my understanding that 3 of his sons Myron, Andrew, and Frank Cooley at one time together owned a Steel Foundry in Richmond. Approximately from the 1890's to 1902 ish. The Foundry building was still standing in Richmond in the mid to late 1970's and the Cooley Foundry Name was still somewhat legible on the building at that time. Is it still standing? Thanks again for any Information you may have to share.
Mark E. Cooley
---
DATE: 18 January 2009
NAME: William C. Marks
Seeking information about Marie Louise Gratopp who I believe was born in the Mount Clemens area, sometime around 1873. I have no information about her parents; but I know she had a brother. She eventually married my grandfather, Charles Henry Marks, who was born in Bowling Green, Ohio. The two resided in Toledo, Ohio where they adopted my father Donald David (Biedler) Marks; and My Uncle Russell (Biedler) Marks, inbetween the years of 1906 and 1910. I would appreciate any information that you may encounter regarding this matter! Thanking you in advance! My address is: 5325 west 1475 south, Hanna, Indiana 46340
William C. Marks
---
DATE: 25 January 2009
NAME: Joyce Stewart
I am looking for the family of Robert STEWART. He was born approx. 1820 in New York. His father's name was Charles Stewart, who was born in Scotland. Robert had a brother Samuel and a sister Caroline. He was living in Richmond, Macomb Co. in 1843 when he married Belinda IRISH Jan. 25, 1843. They were married in Linden, Genesee County. The family moved to Manitowoc Co., Wisconsin sometime in the middle 1840's. There were three children at least, Elias (went by Linus), Anson and Elisa. They appear on the 1850 census in Manitowoc Co., Wisc. and 1860 census in Chicago, Illinois. Robert died of consumption sometime in late 1869 or Jan. 1870. The rest of the family moved to a homestead in Fillmore Co., Nebraska. Any information about this Stewart family would be much appreciated.
Joyce Stewart
---
DATE: 27 February 2009
NAME: Howard Murray
I am researching my g.g.grandparents and also g.grandparents both with the last name of REED. John Reed b.1815 d. after 1860 and his wife Janett b. 1815 d. after 1880. Both born in Scotland. Have not found their burial records.

Son John A. Reed b. 1850 in Michigan and his wife Elizabeth V. Reed b. 1854 in Canada lived in Macomb County and had one daughter, Mabel. Both may be buried in Metamora Township Cemetery. There are numerous Reeds with same names I have found so any information would be appreciated.
Howard Murray
---
DATE: 25 March 2009
NAME: Richard Nettlow
I own a home in Northern Macomb that was built in 1838 by Zephaniah Campbell. Campbell and his wife Betsey sold the house to a Duncan McGregor and his wife Julia in 1846. The McGregors stayed until 1850 when the house was once again sold.......this time to David Draper and his wife Abigail. Draper sold the house to Anson J. Labadie and his wife Rebecca in 1870. Four of the Labadie children died in the sping of 1874 and are buried in the Union Cemetery on Fairchild Rd. ( cause unknown but perhaps scarlet fever or ?????...........if anyone should know please inform me) Anson and Rebecca sold the house in November of 1874 to Henry Kloefler. The same year Kloefler sold the house to Dewitt Pretty and his wife Catharine. Pretty stayed until 1880 when it was sold to Charles and Minnie Hagen. In 1882 Hagen sold the house to Jacob and Elizabeth Gardner who stayed until 1892 when it was sold to Charlotte Trufant. Evidently Trufant died and when her estate was settled the house was sold to my ancestor Arthur Kitley. I am very interested in finding out anything about the early inhabitants of my house......especially Zephania Campbell, Duncan McGregor, David Draper and the Labadie family. Photo of home: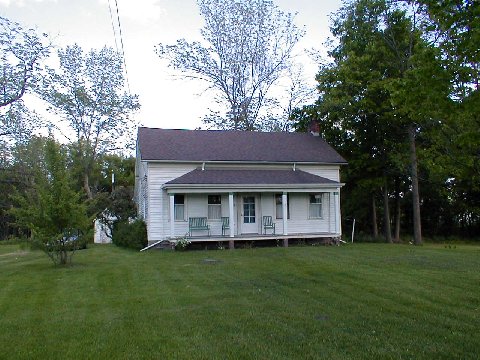 Richard Nettlow
---
DATE: 02 May 2009
NAME: Nancy Moshier
Is there anyone who has connections to the Loucks and Chubb families of Ray, Macomb Co., Michigan. Hope to hear from you.
Nancy Moshier
---
DATE: 01 June 2009
NAME: Phyllis Klen
I am researching the family of Roman Rzemieniewski. He died in July, 1963. His wife, Helen Mielczarski, died 01/13/1984 in Warren; Macomb; MI. They were a member of Our Lady Queen of Apostles Church in Hamtramck, Mi. Although I can locate the family in the 1930 census, I am unable to locate them in the 1920 or 1910 census. Any assistance would be greatly appreciated.
Phyllis Klen
---
DATE: 21 July 2009
NAME: Cecilia Arsena Lawnicki
I am looking for information on Henry Klein born Oct. 1869 in Frasier, Macomb Co. and Caroline Priehs born Sept,1873 in Sterling, Macomb Co. Their son Harold Klein is my grandfather and his brother Edwin were born in Detroit. Harold played semi pro in position of cather on a Mout Clemens team? I did find that Henry,Caroline,and Harold were buried in Gethsemene Cemetery.Henry and Caroline lived at 4840 Baldwin 1118 Baldwin in Detroit. If anyone can help. Please do so I do live in Louisiana. Thanks.
Cecilia Arsena Lawnicki
---
DATE: 21 July 2009
NAME: Karen Peltier
Seeking information on the following surnames: PELTIER (Jean-Baptiste, Joseph, Barnabus (Barney), Charles) RENO (Anthony, Elizabeth) FLAGA (John) CLEAVER (Nicholas, Catherine) EGGER (John, Charles, Grace) PERRY ( Charles, Grace) My husband's father is Charles Joseph Peltier, son of Barney. Born and raised in Mount Clemens. I have traced the Pelletier/Peltier side back to 1540 France. I am looking for the Reno side to complete the paternal link. I also seek his maternal side being that of Flaga/Cleaver. Barbara Joyce Flaga (mother) was also raised in Mount Clemens. We have no dates/links past Catherine Cleaver who married John Flaga. Thanks so much!
Karen Peltieri
---
DATE: 2 November 2009
NAME: David Eick
Seeking information on an Alwine (LIPKE) EICK, who would have immigrated to America in 1890, arriving in Michigan in probably 1891. She gave birth to a daughter Marie in Utica in January 1892. She was married to a Charles Eick, and he probably remarried in 1898. Have no record of Alwine after that, and believe she may have died between 1892-1898. Can anyone help me find any record of her?
David Eick
---
DATE: 2 November 2009
NAME: J. Burnett
Still searching for info on JERUSHA LEACH (B abt 1824 NY state) who married Solomon Adams before 1840. There were several prominent Leach families in Macomb Co from NY but have made no connection to any of them. Any clues would be appreciated.

Solomon was son of John Adams and all the family lived in or around Shelby Twp.for many years. Solomon died 1889 and buried in Hyslop Cem., Elmer, MI. Jerusha died 1895 and buried in Roscomon, MI.
J. Burnett
---
---
DATE: 2 November 2009
NAME: Roy Jessop
Roy W. ANDERSON and his wife Hazel M. JESSOP ANDERSON lived in Fraser in 1942. They had several children. I am looking for names of these children, their approximate birth dates. Thank you.
Roy Jessop
---
DATE: 3 March 2010
NAME: Diana Frick-Simons
My name is Diana Frick-Simons.Great Great grandaughter of Joachim Weiskirch b.1846 Mecklenburg,Germany and d.1896 in Macomb,Mi.His wife goes by the name of Josephine Caroline Gauk-Weiskirch b.1849 in Mecklenburg,Germany.d.abt.1924 in Macomd,Mi Erin Twp. any help locating them would be greatly appreciated.
Diana Frick-Simons
---
DATE: 06 April 2010
NAME: Cornelia B. Poschner
Searching for any information about Max Matzunsky, born 2.6.1920, place of birth unknown - could be Czechoslovakia or Germany. Death 18.12.2001. Max married his wife Emma (born in Czechoslovakia 6.5.1923) in Germany, where they had their two children. In 1951 the family moved to the United States, they lived in Warren, Ma- comb, Michigan. Is Max the brother of my grandmother Emma Schaffer, nee Matzunsky, born 15.11.1913 in Würbenthal / Czechoslovakia ? Parents of Emma Schaffer were Moritz and Anna Matzunsky. Any information will be helpful! Thank you!
Cornelia B. Poschner
---
DATE: 06 June 2010
NAME: Ron Herbert
I am researching descendants of Edward RYALL, a brother of my gr grandfather, who married Nettie Morden on 25 Feb 1890 at Saint Clair, Michigan. I know of 3 children: Bessie b. 1891, Nellie b. 1894/5, Roy Alex b. 1898. All 3 were educated in the School District 3. Roy appears to have lived in Macomb co. until his death in 1976.
Ron Herbert
---
DATE: 06 June 2010
NAME: Susan Howard
I am trying to locate the dates that my great-great grandmother and great-great grandfather lived. They are both buried in Utica Cemetery, Macomb County, Section 9, Plot 34, Grave 2 and 3 respectively. Names: Julia GRIFFITH and Phillip Griffith. Our family records show some confusion, but as close as I am able to determine, Julia lived from 1850-1932 and Phillip lived from 1844 - August 1919. Are these dates correct and can you give me an exact date for either or both of them? Thank you so much for your time.
Susan Howard
---
DATE: 06 June 2010
NAME: Carol Brant
Looking for more info on Hazel SHEARER. Daughter of Peter and Johanna from Armada Village. Hazel was born Feb 1891. She married Arthur Caleb Stirling from Chatham, ON,Canada. He was born 19 June 1890.
Carol Brant
---
DATE: 06 June 2010
NAME: Larry R. Smith
I am looking for relatives of John and Caroline SMITH who lived in Disco ,Mi. I am a direct relative of Harry,there son and Hazel(Rowley)Smith.My great grandparents lived in Disco about 1870 thru 1900.Any information will be helpful for me to complete my search !
Larry R. Smith
---
DATE: 06 August 2010
NAME: James C. Fox
DAVIDSON/SCOTT. Seeking any information on WILLIAM DAVIDSON who married CHARITY SCOTT on 4 April,1853 in Macomb County ,Michigan. I believe they had three children, all names unknown. Charity later married HIRAM OSBORN in Manistee Co in 1868.
James C. Fox
---
DATE: 06 September 2010
NAME: Chris Stallard
I am searching for information on a Vaughan family living in Warren, Macomb Co, MI. Theodore Estell Vaughan died in Warren, Macomb County, Michigan in 1988. He was born in Grayson County, VA and his parents moved to Michigan around 1914. I have been unable to locate any family members to seek info from. Any help would be most appreciative. Thank you.
Chris Stallard
---
DATE: 17 October 2010
NAME: James Leonard
I am currently doing research on Warren Township pioneer families. I am interested in sharing information on these. Three that stand out are the John (James born 1815) L BEEBE Family of Warren, and all descendents of the Abel WARREN (b 1789) Family and any KUNROD Family that lived in Warren Township. If you have any information please share. I do have some limited info on over 1000 Warren Township families. My huge website has about 5000 fotos of Macomb County and Warren Township area and a lot of history including current history. See macombhistory.us I am glad to help anyone. If you have a name from Warren Township, I can look it up in my records. I have 9,000 names in my Who's Who.
James Leonard
---

DATE: 14 February 2011 NAME: E. Najjar
I am looking for information about Celestin DesSGRANDCHAMPS who owned land with Pierre Desgrandchamps in 1839. Also Francois Desgrandchamps 1835.
E Najjar
---

DATE: 14 February 2011 NAME: Mike Riggs
I am trying to find out who parents of Price B. WEBSTER were. He is present in Macomb County in 1830 Census. Was married to Eunice or Eliza Hoard. Any info will be appreciated
Mike Riggs
---

DATE: 01 September 2011 NAME: Cecelia Kirkpatrick
Looking for information on Johnson and Watson families. Sylvia Marie Watson and Carl Fredrick Johnson were married and living in Macomb, MI in 1958. They had at least one daughter. Carl is deceased. Thank you,
Cecelia Kirkpatrick
---

DATE: 01 September 2011 NAME: Jim Constandt
I'm researching the family name CHAMPINE which was also spelled Champayne. In the 1880 Federal census, Nelsis Champayne, age 53, is listed as living in Erin Township, Macomb County, Michigan. Also listed with their ages are:
Theresa, wife, age 27
Alfred, son, age 17
Marie, daughter, age 16
Noa, son, age 9
Victory, daughter, age 7
Adolphus, son, age 5
Any assistance or further direction would be greatly appreciated. Thank you,in advance, for your efforts on my behalf.
Jim Constandt
---

DATE: 02 September 2011 NAME: Barbara Stafford
I am looking for information on a Dorothy June WIKES who was an orphan from the Detroit or surrounding area in the 1930's. She was sent to live in Romeo after her parents died, to live at the Breckenridge School for Girls on W. Gates Street, now know as the Mellon Building.

I would also like to know about a St. Agnes School that operated in Romeo at the same time that was located on either Prospect or Chandler St. and was said to care for orphans to see if there is any connection with Dorothy June Wikes as well. Thank you very much.
Barbara Stafford
---

DATE: 5 September 2011 NAME: Roger Elliott
I'm researching The McMillen family who lived in both Warren and Roseville without any luck what so ever. James Elliott McMillen who died 21 Oct. 2002...... in Warren, MI. Can't find were he was buried? His Father Carl R. McMillen has been a no show too! died 1955 ? mother Josephine (Elliott) McMillen Died 1960? Any help would be greatly appreciated!
Roger Elliott
---

DATE: 09 September 2011 NAME: Cindy Parsons
Charles CLIFF and Sophronia Lamphere (Lanfier) were both living in Ray Township with their separate families in 1860. They had a child together named Charles Henry Cliff born June 12, 1862. I have not been able to locate Charles Senior after the 1860 census and only have Charles Henry's parentage from his his own death record.Sophronia married Jeremiah Shingler in 1869. Can anyone from Macomb County help me learn more about Charles Cliff Sr. born 1840 in Ontario?
Cindy Parsons
---

DATE: 12 September 2011 NAME: Jeremy Carter
I am looking for information on George STAFFORD b. 1899 d. ~1964 and Alta NEWCOMER b. 1901 d. 1988. They lived in the village of Van Dyke in 1930, and had quite a few children. Possible parents of Alta are Charles NEWCOMER b. 1872 d. 1950 and Nettie Elnora MARKS b. 1881 d. 1953, both in born and died in Missouri, although I don't remember where I found that info. Alta remarried after George died, but I can't remember his name. They moved up north in Ogemaw county or somewhere near there. I am looking for parents, siblings, etc, anything you can give. I only have info for George and Alta's son Leroy as he is my grandfather.
Thanks,
Jeremy Carter
---

DATE: 13September 2011 NAME: Sherilee Davis
I'm looking for the obituary for a Charles B. HILLMAN, who died April 21, 1980. He was born in March 7, 1889. He lived in Utica, Macomb, Michigan and died there. I don't even know the cemetery where he is buried. His wife was Alice Hillman. I don't know her maiden name. I'm working on family history, he was the first husband of my Grandmother. Any information you can give me would be appreciated or point me to the right person. Thank you.
Sherilee Davis
---

DATE: 13September 2011 NAME: Margaret Bryant
I am looking for any information on Silas P DAVIS married to Jane FINCH(mother Sally Finch) who lived around Romeo/Washington/Macomb in the 1800's. I was told by a family member Silas Davis & family lived there with his family and there was a town named Davis Corners after that family. I did find a Davis Corners on an 1885 map. We are planning on going to that area in September to look for any records. I would greatly appreciate it for any help you could give me. Thank you
Margaret Bryant
---

DATE: 23 January 2012 NAME: Theresa LaBranche
I'm looking for any information you have in 1850 ( or any census around then) census about Brewer DODGE and his wife Temperance ( sweet,clement). They were residents in Washington Township at that time. I'm interested in children and address as I've records indicating they resided next to their son Winchester and wife Charlotte at that time. Also where would I be able to find a map of Washington Township at that time? I greatly appreciate your time! Thank you
Theresa LaBranche
---

DATE: 01 February 2012 NAME: Daniel Witte
I am Looking for information about the Herman "Hank" H. WITTE family. Herman was b 5-22-1922, d 5-1993. He married Donna Mae Wills, who died at age 43. I know the family was split up by the state due to alcoholism and abuse/neglect. The family lived most of their lives in Mount Clemens at 36201 Homeview. I was the oldest child, my name is Daniel Witte. Would like any information about any remaining family members. Have some memories of cousins, aunts, and uncles. Would appreciate any assistance. Thank you.
Daniel Witte
---

DATE: 22 February 2012 NAME: David E Kern
I'm interested in the Erin Grove Cemetery, Roseville, MI because I do have a couple distant relations buried there and my great grandfather WAS buried there before he was removed to Cadillac Memorial Gardens in 1966. Anyway, I was wondering if you might know if early burial records for Erin Grove are still in existence and, if so, who I might contact to have a look at them. My interest in the cemetery has been renewed recently after receiving a message from a woman who informed me that a Sophia Henning buried in Erin Grove was originally interred at a now defunct church cemetery named St Peter's Ev. Lutheran which was located in Detroit on Gratiot just south of 8-Mile (not to be confused with the St Peter's Lutheran north of 9-Mile in Eastpointe). Apparently Sophia was removed from St Peter's Detroit and moved to Erin Grove to be buried with her husband Heinrich. I also had many ancestors buried in the "south of 8 Mile" St Peter's which, as I mentioned, no longer exists. I was wondering if perhaps some may have been transferred to Erin Grove like Sophia Henning was. This might explain why my great grandfather, who died quite young, was originally buried in Erin Grove. Anyway, if you could provide me with any information I would greatly appreciate it. I have already looked at what records are on line with no results. Thanks
David E Kern
---

DATE: 29 February 2012 NAME: Tod Schroeder
I have been doing family research on my great-great grandfather Charles SCHROEDER who emigrated from Mecklenburg, Germany to Macomb County in 1860. He had a 180 acre dairy farm in Erin/Cady. Please post this on your surname list as I am eager to make connections with anyone familiar with the family. Thank you so much!
Tod Schroeder
---

DATE: 17 July 2012 NAME: Cindy Alexander
I am looking to find information on two sections of my family. They lived and worked in Macomb County, MI. My 2nd G. Grandfather, Charles BERGER, had a store of some sort in Waldenburg...Bergers Corners? and I know they died in the county at some point. Caroline or Carrie MILLER was Caroline Streit and married Herman Miller. They , too, had a store...in Mt. Clemens, I believe and I am told he was a shoemaker? If you can help me locate some information or addresses or even some pictures, I would be grateful. Thank you so much.
Cindy Alexander
---

DATE: 13 September 2013 NAME: Patrick Flower
I'm looking for any members of the FLOWER family still residing in the Macomb county area. My own connection was with my ggg grandfather, Lemrock and Phoebe Flower from Richmond. Anyone with any information please contact me. Thank you.
Patrick Flower
---

DATE: 13 September 2013 NAME: Mark Hutchens
I am doing geneaology research on my family, from marrage records I have back to G-Grandpa Alvin R HUTCHINS listed as being born in Macomb county abt 1846. Married Harriet Kentner 2 Jan 1869 in Fenton Michigan, Son Levings S Hutchins Born 1870/71 Gaines Twp who married Elizabeth Lord 8 July 1899 Byron Michigan, Sons Byron V & Myron I (twins) Born 26 June 1920 Genessee Twp Flint Michigan.

I am trying to get as much information on Levings & Alvin as I can, Can you check your records and see if you have anything listed? I do not see the Hutchins name on the surname list. Any help would be appreciated. Thank You
Mark Hutchens
---

DATE: 13 September 2013
NAME: Kristy
I am a descendant of Charles & Mary HYDE. I believe they moved to Macomb County around 1841. They both died in Armada in the late 1860's. I found Mary's death record, but had no luck with Charles'. I cannot find any information on Charles' parents.
Kristy
---

DATE: 6 February 2014
NAME: Sue Patrello
I would like to find other's researching or from the following family. Mario MAZZENGA, b: 1905 Calirton, Allegheny Co. Pa. d: 1963 Macomb Co. He was the son of: Domonic MAZZENGA & Josephine ROSATI, both born in Alvito, Italy. Mario MAZZENGA m: Linda MARINI in Alvito, Italy. Linda MARINI, b: Italy & d: 1974 in Madison Hgts. Mi. Children of the union were: Elena (Helen) & Vincenzo who were born in Italy. Mario had one sister: Adaline MAZZENGA, b: 8 Nov 1912, Alvito, Italy. She m: Onorio FALLONE. He d: 10 Nov 1973 was from Warren, Mi. Children of this union were: Joseph, Celeste & Rita. Grandparent's of Mario & Adaline were: Vincenzo MAZZENGA & Antonia BRUSCA, who settled in Detroit. Manyof the MAZZENGA relatives lived in Macomb Co
Sue Patrello
---

DATE: 7 Feb 2014 NAME: Gloria Beebe
I would like to find info on my gggreatgrandfather, Lewis BEEBE born 1824 in Vermont or New York. He was married to Sophia Sage, b. 1825 and they lived in Macomb County, MI for a few years. My ggrandfather, Charles William Beebe was one of their children. Thank You,
Gloria Beebe
---

DATE: 14 Feb 2014 NAME: Gary Barney
My descent is from Timothy & Julia VAN HORN ,Isaac& Mary Jane line to Charles & Evangeline Burgess. I live in Chebogan Co. Can you help with facts and details? Thank You,
Gary Barney
---

DATE: 19 Feb 2014 NAME: Jay Hearn
I had two great Uncles and Aunts who moved to the Detroit area between 1910 & 1920, they were Charles Ashton Armstong & wife, Maude Mae Heflin and also, James Marion Armstrong & wife, Grace Sullivan (All of whom were born in Stafford Co./Fredericksburg, VA.).

Charles Ashton Armstrong was born 27 Feb.1885 & d.24 Dec.1968 in Livonia, Wayne, MI.? His wife, Maude Heflin b.19 July 1885, died in Detroit, Wayne Co., 22 December 1930. Ashton remarried a 2nd time, Eunice S. Galligher b. 9 Feb. 1889 in Evart, Osceola, MI. Eunice died on 4 Feb, 1965 in Livonia, Wayne, MI.? Charles Ashton Armstrong and Maude had two sons, Theodore B. Armnstrong, born 1907 in Virginia and died 1 Jan. 1986 in Grosse Pointe Farms, MI. He married Alma Tavastila. Their second son was Howard S. Armstrong, born 1911 in Virginia & died 6 Oct. 1993 in Ocala, Marion Co., FL (however most all his life was lived in Detroit, Grosse Pointe & lastly Holland, MI.) Howard married twice, 1st Elizabeth "Betty" J. Van Tongeren (1929-1995) & 2nd, Ruth Valkema (1909-1998). Howard & Betty had 3 sons: Charles "Chuck" Howard Armstrong (1932-2008), Theodore Robert "Bob" Armstrong (1934- ), and lastly, Kenneth W. Armstrong(1936- ). I think all these boys spent a good amuont of time in the Holland, MI area.

James Marion Armstrong was born 22 August 1892 in VA & died in October 1969 in Grosse Pointe, MI (However, most all his life was lived, I believe, in the Detroit area.) His wife, Grace R. Sullivan was born in VA 20 August 1893 & died 19 August 1969 in Romeo, Macomb, MI. They had 6 children, one daughter died in child-birth in 1921. The others were: Reginal L. Armstrong (1915-1992 in Macomb Co.), Earl (1918- ), Edward (1919-1996), Conway (1932- ), and Vera V. Armstrong (1924- ). Don't know much more about that side, except a found a Reginal L. in the Macomb Co. records in both deeds & obits, he married a Leona.

Many thanks,
Jay Hearn
---

DATE: 22 April 2014 NAME: Scott Babel
I have been trying to locate the Brown family line in Macomb county and have been unsuccessful for many years. Elizabeth Babel was my 2 GGA and I have not been able to find out anything about the Browns other than what I have in the line below. I know they resided in New Baltimore at least until the last available census 1940.

Any assistance you can provide is appreciated.
Scott Babel
---

DATE: 18 November 2014 NAME: Georgia Ackerman
I am seeking a copy of birth and death records for John Seymour Crittenden son of Daniel and Olive (Martin). B. 1811 Macomb County died 1895 Flushing, Michigan. Maybe spelled Cruttenden. Thank You,
Georgia Ackerman
---

DATE: 01 Mar 2015 NAME: Nancy Smith
I believe my grandfather, Leonard H WILSON,DDS died in 1938 in Armada, MI. He was a practicing dentist in Armada in the early 1900's. I am seeking a copy of his obituary. Thank You,
Nancy Smith
---

DATE: 1 March 2016
NAME: Nina Jackman
I am looking for what happened to Hiram Reynolds Jackman, who had lived in Canada, came to Michigan and was caretaker at a country school in Macomb County. He married his first wife, Martha Oliver in 1843 while still in Canada. She died in Macomb County and is probably buried in the Memphis Michigan graveyard, where their young son is buried - and has a marker. There is no marker for his wife.

his second wife, Maria Taylor Apley was from Canada, too, but moved to Memphis. She was buried in a different cemetery where her first husband was buried. They did not have children. The Memphis Cemetery people did not keep good records. He had several children with his first wife, Martha, and they scattered in different areas of Michigan.

I cannot find a death record for Hiram nor can I find absolute proof that he was the child of Richard and Mary Jackman in Ontario.

those two answers would finish my genealogy on which I have worked for many, many years. I am now 90 years old and would like to complete my records. Please help if you can.

Nina Jackman
---

DATE: 1 March 2016
NAME: Ted Ward
I have been working on my family tree for about three years. I have close to 3000 family members in it. I am asking for your guidance and whatever help you can give me to find more information on my great paternal grandparents. I keep running into roadblocks on tracing my great grandmother before her marriage as to her parents, etc. Matilda L. Walker WARD is her name. I have found their graves in the Hadley Cemetery on Coon Creek Road in Armada Township. My grandfather was Andrew J. Ward, born 1801 in Vermont and died in 1891 in Armada.

They were married in Ontario County NY, I think. Most of their children were born there before they moved to Macomb County, which occured around 1840 or sooner. I've read in some published books that their house was one of the stops for Armada settlers in their trip from Romeo to settle in Armada. Their house was at Coon Creek Road and what became Armada Ridge Road.

I have been to Armada and Richmond Township offices and the Armada Times and Romeo Observer to research. I recently found that the Mt. Clemens library may have some materials that may help me. Thank you for any help that you can offer.

Ted Ward
---

DATE: 1 March 2016 NAME: David Eick
I am trying to find out where to obtain death records, and more importantly, a will or probate records for my Dad's cousin, Walter I. WINEGAR who died in 1978 in Macomb County. Any tips or leads would be much appreciated. Thank you.
David Eick
---

DATE: 1 March 2016 NAME: Mary Eberts
I am a resident of Toronto, Canada. I am looking for information about Joseph Eberts, born November 25, 1848 in Mt. Clemens, Macomb Co. Michigan. He died in Wallaceburg April 28, 1927. His information on Find-A-Grave for Riverside Cemetery in Wallaceburg lists his parents as Thomas Eberts of Macomb County and Camilla Martell Eberts, originally of Montreal, Canada. I have been looking online for information about Thomas and Camilla but cannot find anything in Mt. Clemens or Macomb County records available online. Any help would be most welcome. Thank you.
Mary Eberts
---

DATE: 3 March 2016NAME: Patrick Flower
I'm searching for ANY additional information about my ggg and gg grandfather 's and grandmother's history from the Richmond / Armada area of Macomb Co., Michigan Their names were Lemrock ( Lamrock ) Flower, his wife Phoebe, my gg grandparents, James Flower, and his wife Myranda ( Conger ) Flower.

According to probate records of Macomb Co., their specific location of their probate records are the following :

Lemrick ( ? ) Flower, year - 1869, File type - P, file number 547, roll 20
Miles Flower, year 1862, file type - O, file number 255, roll 17.
Phoebe Flower, year - 1865, file type - P, file number 202, roll 16.
William Flower, year - 1851, file type - P, file number 261, roll number 5.
Could you please let me know if I can purchase copies of these records. If so , how much would it be? Thank you much.
Patrick Flower
---

DATE: 1 March 2016 NAME: Cindy Ricks
I am interested in the CONKLINS buried in Willow Grove Cememtery, Armada, Macomb County, MI. I have William's death certificate. Is there any way someone knows if he was married and to whom? I would be his great-great granddaughter. Did William have a son named Hirman? His son Edsal in my grandfather. I have been searching a long time to find where he is buried and want to make sure it's really my family line. Thank you.
Cindy Ricks
---

DATE: 3 March 2016 NAME: Mary Brinks
I hope you may be able to help me with a family mystery/legend of my GG grandfather, William GAMM. How can I find legal records or newspaper articles from around 1879-1880 for the Armada area?

Here's the story:
William , his wife Dorothea Schaeding and two children purportedly arrived in Armada in October or November of 1879. He already had relatives in the area (John Gamm). He left the area within a year under duress. (He is placed in Saginaw by January 1881 because his daughter died in January 1881 and is buried in a Saginaw cemetery). Legend has it among the relatives in Armada that he was a horse thief and ran away to the Saginaw area. William and Dora claimed that they had never lived anywhere but Saginaw. I found a plat map from around this time frame that shows a plot owned by a Wm Gamm, so there may be credence to the family legend. I haven't been able to find any records indicating illegal activities.

Thanks for any direction you can give me.
Mary Brinks
---

DATE: 4 March 2016 NAME: Alice Calloway
I am researching GOULETTE family members from Mt. Clemens. I found Paul J. Goulette in the obit index of the Mt. Clemens Library online. He died 16 Aug. 1912 at age 14, son of Abrose. (His mother not listed is Archangel (Arkie) I am hoping to find his birth date as I am having a grave stone made for him and would like this pertinent info to complete it correctly. I also know he is buried in St. Peter's Cemetery in the Goulette family plot, but no headstone.

My name is Alice Calloway, and the Goulettes are part of my maternal heritage. Paul would have been my great uncle. Any other information you need, please contact me.
Alice Calloway
---

DATE: 4 March 2016 NAME: Nancy Martell Schmidt
I was raised in Romeo, Michigan. My family goes back to before Romeo was an actual place on the map. My father was Cecil Herbert MARTELL, who inherited "Hillcrest Orchards" after his mother, Grace Mae Eldred Martell died and before he sold it about 1949.

He started subdividing lots along 32 Mile and Campground Roads and now I can't remember what the subdivision is being called. Family names were Schmidt, Sieger, Eldred, Butterfield, Eaton, Sholes. My great great grandfather, Rev. Anthony Martell from Nova Scotia was the Baptist Minister in Romeo for awhile. His wife died when he was a minister in Lapeer, I think. She is also buried there.

My great grandfather, Herbert Cunningham Martell and his wife, Eva Butterfield Martell are buried in the Romeo Cemetery also. I have pictures of the tomb stone, I understand it was damaged, so I don't know what remains.
Nancy Martell Schmidt
---

DATE: 09 May 2017 NAME: Kimberley Prell Clark
I am interested in the following surnames:
Surname: Rose/Roos/Roose/Roosa etc, Zeigler or Seigle
Given Names: Emil and Ida have several other siblings. John Roose and Fredericka Seigle per Emil's death record for parents names. Listed on the 1855 Erie Co, NY State census. Also found in Macomb with various spellings to the last name. Wurttemburg and (Sachsen) Saxony To Macomb Co, MI

Kimberley Prell Clark
---

DATE: 09 May 2017 NAME: Kimberley Prell Clark
I am interested in the following surnames:
Surname: Prell, Loeschke/Loschke/Loske/Loschke/Lochke/Loschke, Ring
Given Names: Frederick, Mary, August(us), Fredericka
Prussia to New York (1860 Census, Niagara Co) to Macomb Co, Michigan by 1870 census.

The Brandenburg Emigration list from Bagemuehl/Prenzlau, shows Maria Dorothea Loesicke (Loschke on her daughters death record) verh Prell, Augustus Wilhelm Prell and Fredericke Wilhelmine with Heinrich Wilhelm Prell. Dates of birth for Augustus and Fredericka on the emigration show these are our August and Fredericka. Family story was that August came over with a cousin but I have actively been researching this line for more than 25 years and have done the research to prove that the passenger list that our family had for him is not our August. After taking a DNA test and finding others who did the same, our family ties into the South Dakota Loeschke lines from Pommern near Brandenburg. I have transcriptions of the Emigration records but they can be found online at Ancestry.com or in the Family History Library on microfilm. Mary Dora (Maria Dorothea) was daughter of Michael Loschke (possible Lochke) and Dora Ring.

Kimberley Prell Clark
---

DATE: 09 May 2017 NAME: Kimberley Prell Clark
I am interested in the following surnames:

Surname: Williams/William

Given Names: Isaac, John or Johan and Wilhelmina Dittman Williams Prussia to Macomb Co, Michigan Isaac was on the 1870 Macomb census, as was his father, John Williams. Isaac married Fredericka Wilhelmine Prell, my grand aunt. The above Macomb surnames that I am hoping to find more information on regarding locations in Saxony, Wurttemburg and Prussia they came from. Past and Present of Macomb County states that Isaac Williams and his wife Fredericka Prell were born in the same town in Prussia after much research the town or village of Bagemuhl in Ueckermark/Prenzlau (Brandenburg) has been found for the the birthplace of Isaac Williams. DNA matches to my brother and I and other extended family members show locations of birth for the ancestors in the Brandenburg area from their trees.

Kimberley Prell Clark
---

DATE: 09 May 2017 NAME: Mike LaForest
I am still following the genealogy trail and would like to add one surname to my list of persons. The name is: Tineau/Teno/Tino. You might recognize this as a dit name for LaForest. I am a descendant of Charles LaForest dit Tineau whose father, we have learned through the marriage record of his mother, is unknown. Denissen lists his father as Jean Baptist, but his mother never revealed his biological father. Thank you!

Mike LaForest
---

Return to the main page for Macomb County
Margaret Pecar Fallone / MFallone@aol.com