How It All Began For Trimble County
by Dr. Richard A. Edwards
These sketches do not make a history of Trimble County. They are only a few links in a missing chain, and several of the links are incomplete.

My interest in local history has prompted me, off and on for a good many years, to collect and preserve items of historical value. Exact references for some of these are missing, and that is an indication that the collector was no real historian. Several subjects in this list are too incomplete for publication until further research has added sufficient information to give them value and interest.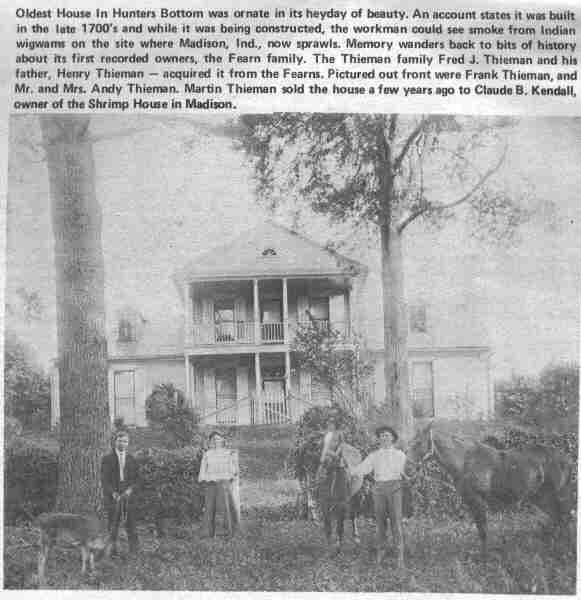 The above text reads: Oldest house in Hunter's Bottom was ornate in its heyday of beauty. An account states it was built in the late 1700's and while it was being constructed, the workmen could see smoke from the Indian Wigwams on the site where Madison, Indiana now sprawls. Memory wanders back to bits of history about its first recorded owners, the Fearn Family. The Thieman Family, Fred J. Theiman and his father, Henry Thieman - acquired it from the Fearns. Pictured out front were Fred Thieman and Mr. and Mrs. Andy Thieman. Martin Theiman sold the house a few years ago to Claude B. Kendall, owner of the Shrimp House in Madison.


Much of the history of Trimble County can be found in the records in the courthouse; and a source for the earliest history of the region is stored in the courthouse at LaGrange, New Castle, and Warsaw. History is like gold in the mine, it has to be dug out and refined of the dross. Writers of history and genealogy have a driving desire, a hunger to discover certain information, a pleasure in finding a nugget, a patience to search every crany and nook, time in which hours, days, and weeks may be spent on the trail of a desired fact or story, and ability to organize data and to write it up.

Tradition and hearsay are not always, though usually interesting and of much concern. They are like gossip, probably based upon some fact, sometimes entirely true, but sometimes entirely false and the product of imagination. More often the story has been changed as it passed down from tongue to tongue. Many persons are not interested in the past. Especially is this true of youth with their limited experience in life. But the older we grow the more we realize the value we have received from our family inheritance, our community, state, and nation. What we are has been acquired from others.

These twenty odd items which I am sending Judge Greenwood may be used any way he may see fit; or they may not be used at all, I doubt if many of them are in shape of publication. However, they may be some slight use as source material for the researcher. It is hoped that they contain no errors -- but errors are difficult to avoid, and sometimes sources are unreliable.

History is written about people. It is generally the unusual ones who get publicity. That includes those who have to some degree become distinguished some way or other, who have rendered unusual service to soceity. The great host of honest, hard working citizens who form the warp and woof of our society, who keep our institutions stable and our laws in force, although not spectacular, are the salt of the earth. They should not be forgotten.





Trimble County was established by act of the Kentucky General Assembly in December, 1836. The county government was formally organized on March, 27, 1837, and the legal functioning of the county government began on the first day of April of that year. The territory was taken from parts of Henry, Oldham, and Gallatin counties. The boundaries as specified in the law enacted were as follows:

"Beginning on the Ohio River at the mouth of the big Kentucky River, thence down the Ohio River to the mouth of Patten's Creek, then up said creek with a continuation of a line a general course thereof to a tavern house known as Rucker's Tavern, so as to include said house, thence a straight line through the County of Henry, to the house of the widow Mullikin, on the road leading from Bedford to New Castle, leaving her in Henry County, thence north 27 degrees east 1,150 poles to Corn's old farm on Riddle's Mill Road, thence north 80 degrees east 480 poles to the Port William (Carrollton) road where the Gallatin County line crosses said road and just below E. Scott's, thence with said road south 27 degrees east 200 poles to Lockhart's on the road from New Castle to Port William, to where the Henry and Gallatin County line crosses the south fork of Mill River, thence with the said county line to the Big Kentucky River, thence down and with said river to the mouth and the beginning, shall be and is hereby created into one distinct county to be known and called by the name of Trimble."

The next year, in 1838, Carroll County was formed and a slice was taken from north-east Trimble for its territory. Then it appears that Carroll added a little more of Trimble in territory in 1851. (See note by Howard Hardaway).

Kentucky was never a territory or a province. From its earliest history until it was admitted as a state in the union, it was part of Virginia. As settlements spread westward new counties were organized in the Old Dominion, the frontier county extending its boundaries indefinitely into the wilderness.

In 1738 the Virginia House of Burgesses created Frederick and Augusta Counties, having their boundaries extending west and north-west to the Mississippi River. Botetourt County was cut from Augusta in 1769, and included territory and the wilderness west to the Mississippi. Three years later, 1772, Fincastle County, formed from Botetourt, covered the westward expanse south of the Ohio River including portions of western Virginia and what is now West Virginia and Kentucky.

In 1776, two years after the first settlement at Harrodsburg, Fincastle County was divided into three counties, one of which was named Kentucky. Kentucky County included the territory now embraced in the state by that name. As the settlements in Kentucky grew and population increased Kentucky was divided into three counties. Fayette was formed from the territory lying north of the Kentucky River and extending to the Ohio and Big Sandy rivers. Jefferson County embraced the land between the lower Kentucky River, the Ohio and Green Rivers. A line from the head of Benson reek, which empties into the Kentucky at Frankfort, run due south to Green River, separated Jefferson from Lincoln County. Lincoln then included the remainder of Kentucky north and east of the Cumberland River. These three counties were called the District of Kentucky in 1780. Then in 1792 Shelby County was created from that part of Jefferson extending to the Ohio River at Eighteen Mile Creek, up the river to the mouth of the Kentucky River, and including all of the present territory of Shelby, Henry, and Trimble, and parts of Carroll, Oldham, Spencer, and Franklin.

Six years later, in 1798, Henry County was formed from the northern part of Shelby, and Gallatin County organized at the same time included part of Shelby west of the Kentucky River, and from Franklin on the east side. Oldham was formed in 1823 from parts of Henry, Jefferson, and Shelby, and included the land about Bedford.

The original boundary lines for Henry, Gallatin, and Trimble are presented here with the boundary lines as they concern Trimble shown on the map. But the line between Oldham and Gallatin is not found. It is known to have run through the Cook farm, about two miles east of Bedford. The direction is N about 10 or 15 degrees west; and if the line continued through the western part of Gallatin, it touched the Ohio River near Milton. Does anyone know whether Milton was in the county of Gallatin or Oldham between 1823 and 1836? This boundary line was known as the May-Banister line.

Trimble County, formed in 1836, from parts of Gallatin, Oldham, and Henry, extended to the Kentucky River. The number of tax payers in the new county included about the same number that were in Gallatin as there were from both Oldham and Henry. Only one-tenth of the population were from Henry territory. The first county lines for Trimble did not coincide with lines later drawn on the east side. Gallatin County boundary is stated in 1798 as follows:

"Beginning six miles above the mouth of Corn Creek on the Ohio River to the mouth of Big Bone Creek, thence south with the Campbell County line 16 miles, thence to the Kentucky River at Rock Spring, near Clay Lick, thence down the river within 2½ miles of the mouth of Eagle Creek, thence a direct line till it strikes the road from Shelbyville to the mouth of the Kentucky River, two miles north of Henry Daugherty's, thence a direct line to the beginning."

The boundary of Henry County when organized in 1798 is given as follows: Beginning ten miles due north of the public square on which the courthouse of the said county of Shelby is now situated, thence west to the Jefferson line, thence west to the Ohio River, thence up the Ohio River, thence up the Ohio with the meandering thereof six miles above the mouth of Corn Creek, thence on a straight line to the road leading from Shelbyville to the mouth of the Kentucky River, two miles north of Henry Daugherty's, thence a direst line to the Kentucky River two and one-half miles above the mouth of Eagle Creek, thence up the Kentucky River and the Franklin line so far til westward course will strike the beginning.

This Henry Daugherty was evidently father of Henry who married Eva Latty and lived near Providence on the Daugherty Creek. But it appears that Henry Sr., must have lived near Campbellsburg. Unless the home of Henry Daugherty, Sr., can be determined, it is somewhat uncertain to find the exact line between Gallatin and Henry Counties. A son of Henry Jr., lives near Bedford, and may be able to settle this point.

From Howard Hardaway's trek through Trimble County, 1940: "It was 1851 that Ben Hitt, Trimble County representative in the State Legislature, took a nap during the session. Some say that some fellows from Carroll County took Ben on a big party the night before. Anyway, while Ben was asleep in his chair, a bill was introduced moving the boundary line from Locust Creek to Spillman Lane. That took a lot of good bottom land from Trimble and gave it to Carroll. When questioned about it at home, Ben said he would have it corrected at the next session of the Legislature. "No, you won't" was the reply, "another representative will be there."

from the Trimble Banner Bi-Centennial, April 1974

Back To Trimble County Genealogy
Booming Business in Pre-Civil War Trimble County
The Trimble Family
The First Trimble County Court