Wattson Family of Alba,
Antrim Co., Michigan
1881 to 1921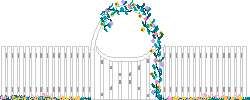 Benjamin Marshman Wattson came to Alba MI in 1881 or 1882 from Forest Ontario Canada and as time went on (not much however) married Ida Celina Wylie in a double wedding ceremony in "Down Town Alba". The house is still there on the south side of county Rte. # 42 one block east of M131 across from the church. The house at that time I believe was a " Travelers Lodging" type with large party facilities.

I believe one party of the other wedding couple was a Van Wert but not positive, this might be in the Alba Centennial Book.

1. Benjamin Marshman Wattson b. 9-26-1854 Bath Eng. D. 10-16- 1916 Alba buried in Star Twp. Cem.

+ m. Ida Celina Wylie b. 1-21- 1856 Sparta MI d. 7-27-1897 Alba buried Star Twp. Cem. Marriage 7-4-1883

Ben worked as a sawyer, telegraph operator, farmer, horse breeder and laborer. Ida had severe circulation problems in her legs and feet in her later years and died young at about 41 yrs. She lost both feet in March 1887, and somehow got around the house by sliding a chair. There home was a busy place as Ida was a very proficient seamstress, and quilter plus having several sisters in the area in addition to the four children.

According to relatives there was a very friendly social buzz about the place and many friends and relative travelers stopped by and stayed over. Many of the relatives lived in Chestonia, East Jordan, Petoskey, Mancelona, Kalkaska and other fairly close areas.

Their home was a 40 acre farm directly across from the Star Twp. Cem. There is no sign of the home now as the land is all planted with pine trees.

Children of this marriage:
A. William Martin Wattson b. 7-3-1884 Alba d. 1951 Minn. MN.

Better known as Martin with a nick name of "DOC", he moved to MN. And was a lumber Scaler and later Lumber Co. Executive, married twice, 3 Children. Details in MN Wattsons Family tree.

B. Elsie Florence Wattson b. 7-11-1888 Alba d. 3-31-1924 Probably Gaylord , although records not found yet. Buried Star Twp Cem. Florence never married and appeared to be quite busy with many travels over her short life span. Exact cause of death not known yet, still seeking that information.

C. Harriet Elizabeth Wattson b.1-8-1887 Alba MI d. 1997 Flint MI Buried Star Twp. Cem ( as Mrs. Walter Roberts)

+ m. Walter A Roberts in Alba 6-28-1910 d. 1960 Indian River MI

Buried Star Twp Cem Alba. Walt was a mechanic and worked on rail cars and other heavy equip. while in Alba. Like many others when the logs ran out they moved to Gaylord for a short time , then lived most of adult married life in Indian River Mi and he was the Manager of the Indian River Lumber & Fuel Co. for many years. Retired from there and only lived a few years thereafter.

"Walt" and "Bessie" adopted a young boy ( not sure of age when adopted) named Edward A. better known as "Ted". " Ted " graduated from schools in Indian River and Petoskey and became a Mortician and practiced for a short time in Onawa, MI. He was then inducted in the army served for about 3 years was wounded then returned to active duty and Killed in action on 12-12-1944 in Germany. The VFW Post in Indian River MI.is named after "Ted" and is called "Cochran - Roberts Post 7439".

D. Alfred Marshman Wattson b. 9-13-1890 Alba MI d. 2-2-1939 Gaylord MI. Buried Star Twp. Cem. Alba. "Al" as did all the other Wattsons went thru high school in Alba. He played the bass drum in the school and community band and played most sports, was quite proficient at Baseball and Basketball. He worked at the logging camps, saw mills, sold fuel and drove fuel delivery trucks, worked in gas stations, his last job was sales and delivery of meat products for Farmer Peet Packing Co, out of Gaylord. Belonged to the I.O.O.F (Odd Fellows) lodges in Alba and Gaylord.

+ m. Helena Evelina Walsh from Mancelona, b. 4-14-1896 Mecosta Cty. MI. d. 7-6-1982 Gaylord Buried in Gaylord ST. Marys Cem. Better known as Helen Eva and best known as "PAT". "AL" & "PAT"

were married in Mancelona MI. 11-14-1914, lived at the various lumber camps (one at Ward) and in the town of Alba west of the existing town about a quarter mile, very close to a railroad bridge (now gone).

Children of this marriage( born in Alba)
A. Elsie Kathleen Wattson b. 12-31-1915 d. 2-6-1929 Grayling Hosp. Burst appendics, buried in Gaylord St. Marys Cem..

B. William Benjamin Wattson b.9-14-1918 d. 11-14-1944 Killed in Action in WWII buried in France.

C. Mary Elizabeth Wattson b.10-26-1920 d. 7-1-1988 Lakeland Fl. Better known as "Betty" she died after a second heart by-pass operation.

+ m. George Wesley House of Sparr Mi Married on 1-8-1947 St. Marys Catholic Church Gaylord MI. "George & "Betty had four children while living in Gaylord (all still living) and all included in the Gaylord Wattson Family Tree. George d. FL 2001(exact details later)

This is all of the Wattson Family that lived in the Alba and Antrim County Area.

"Al "& "Pat" Wattson moved to Gaylord with the children in about 1821 or 1822 and had 6 more children included in the Gaylord Wattson Family Tree.

The Wattsons had many many good friends in the Alba area that I remember them reminiscing about. Some were: The Alfred Coon Family, Joe Hale Family, Cleve Hale Family, The Rouses a "Cappy Rouse" as I remember, Olds Families, Mrs Douglas from Chestonia, and many many more also mentioned in the Alba Centennial Book.

An entire Wattson Family Tree and Wylie Family Tree is available from Charles Wattson at the address below.




Author: Charles Wattson
PO Box 751
3680 Witt Blvd.
Indian River MI. 49749
We no longer have an email contact for Mr. Wattson
January 1, 2003


Return to Antrim County Surnames


Return to Antrim County Queries


Return to Antrim County Main Page