>
Bedell Family History Project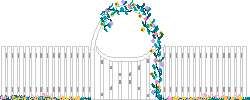 Family Roots Spread Wide In County Ruth (Bedell) Clark, owner of the Dairy Twist in Bellaire, is joining her sister, Mary Ellen (Bedell) Rhea along with Doug Bedell and Jean Bedell Fuller of Bellaire in an ambitious project of documenting their family roots. What's more, they hope that a number of families who are also related to the Bedell's will join them in a two-week effort beginning September 21st to update their family records with them. The project will include more families than just those with the last name of Bedell. The Dairy Twist and the Bellaire Public Library will serve as dual centers for the activity.

Ask Doug Bedell or his sister Jean Bedell Fuller, and they can tell you a lot about how half of Bellaire and a good-sized of the population of Antrim County are related to each other. When their ancestor, George Bedell came to Forest Home Township in the Fall of 1879, there were only two buildings in Bellaire. George and fifteen members of his family and cousins left the train in Mancelona and drove a wagon and a team of horses hour after hour over roads that were nearly impassable fourteen miles to their new home. They had left Mancelona at 4:00 in the afternoon, finally arriving at 2:00 the next morning.

Today, many families in Bellaire and Antrim County are descended from those fifteen people. 100 years ago, Henry Alanson Tredwell of Brooklyn, New York prepared a handwritten genealogy and history of the Bedell family that began with Robert Bedell who settled in Hempstead, Long Island, New York as early as March 17, 1657. The Bedell's of Antrim County, and their related families are all descendents of this Robert Bedell. Today's Bedell Family Roots team is endeavoring with other Bedell genealogists across the country to verify and update that 100 year-old record to the current generations. The Bedell genealogists are using the Internet to coordinate their research efforts and results.

"This is a great research project for teenagers in families," states Mary Ellen (Bedell) Rhea of Aurora, Colorado. "They learn a lot about history as well as their personal heritage. We hope that some of the teachers in the schools and parents in Antrim County will use this project as an opportunity to help their students and young people understand their heritage and the importance of family."

The Bedell research team would like one or more representatives from each of the families related to the Bedell's to volunteer to help in this two-week effort. A genealogy record book is available now for review at the Dairy Twist. Ruth (Bedell) Clark urges you to stop in and volunteer to help bring these records up-to-date. "There are a lot of people in the book for whom we have no information that we know other people in Bellaire and Antrim County can solve the mysteries for us," she states.

So what are some of the last names of families who are related to the Bedell's? They include the surnames of Dickinson, Spencer, Beebee, McIntyre, Greene, Crittenden, Wilson, Kemmerer, Maltby, Ring, Patton, Thorndill, King, Barger, Comingore, Lessard, Fischer, Butler, Griffith, Miller, Icarangal, Crandall, Richards, Menestrina, Savoie, Parks, Sherman, Stein, Kube, Ellsworth, Sodina, Frederickson, Edwards, Fuller, Greenman, Staubb, Bell, Ringel, Townsend, Clark, Finney, Priest, Fillmore, Thomas, and Woodward. The Bedell research team suggests that there are many more that are not included in the records they are trying to complete. When the project is completed, the team hopes there will be enough interest in it to make a soft cover book available to everyone at the cost of printing and mailing.



The Bedell Family information was provided by Joe and Mary Ellen (Bedell) Rhea
We thank them for their contribution to the Antrim Co., Michigan Genealogy pages.


If you would like to contribute your family tree to the Antrim pages, please write to Margaret Fallone


Return to Antrim County Surnames


Return to Antrim County Queries


Return to Antrim County Main Page