CAPLINGER FARM CEMETERY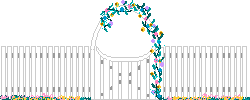 This old family cemetery was recently discovered in Trimble County by the Miller family. The Caplinger Farm Cemetery is located on Richmond Hill Road in Trimble. The only stones that were found are listed below. A neighbor of the area stated that many of the stones have disappeared over the years.

Thank you to Marguerite Miller for this information.

Mahala Caplinger
Nov. 6,1831
July 24, 1849 in her 18th year.

Emily
Daug of D & F Caplinger
Wife of B.Mulikin
May 24, 1829
Sept 27, 1854 in the 25th year.

Mary Caplinger,
Wife of J W Burford
April 10, 1818
June 13, 1850

Wm P Caplinger
Oct 28, 1830
Aug 16, 1855

Our Nettie
J & L Caplinger
March 11, 1871
Aug 3, 1871

Other foot stone with letter
EZC CCC DC

Further information about this cemetery has come from Robert D. Caplinger. Read below for his notes, as well as additional tombstone information.

This cemetery was set up for the Daniel Caplinger family. It was permanently established by the Daniel Caplinger will filed on 14 August 1871 which provided "My family burying ground I wish preserved for my family and the same is not to be sold and I direct also that the right of pass way to and from it be retained in any sale made of the land this alteration is not to effect any of my Devisees made this 2nd Jany 1862."

I located it last September. It is located between Bedford and Providence. My directions to the cemetery is as follows:
Proceed east from Bedford, Kentucky on U.S. 42 for a distance of 3.3 miles. Turn right on Connector Road for a distance of .3 of a mile to a stop sign. Turn right and follow the black top road a distance of 1.2 miles to the junction with Road No. 316. Turn left and follow No. 316 for .6 of a mile to the Richmond Road. Turn left and follow Richmond Road for approximately .6 of a mile to 551 Richmond Hill. The present home of Ted and Jean Arnold is located where the old Daniel Caplinger home was. The Caplinger Cemetery is located about 200 feet to the west and behind the sheds. The Cemetery is approximately 40 by 40 feet and is bordered by a rock wall.

We found the cemetery in terrible condition. We hope to get back to that location this summer and clean it up.

Some buried there are:
Daniel Caplinger, born in Virginia on 16 May 1793, died 11 June 1871 in Trimble County.
His wife, Frances Marshall Powell Caplinger, born in Shelby County, KY on 19 April 1818. Died in Trimble County 28 August 1876.
Their son, William Powell Caplinger, born 1820, died Sept. 1854.
Their daughter, Mahala Caplinger, born Nov. 6, 1831, died 24 July 1840.
Their daughter, Mary Ann, who married John W. Buford.
Their daughter in law, Adeline Teague Caplinger, wife of their son, Adam (A. D.) Caplinger.



For more information feel free to contact:
Robert D. Caplinger
Gr.Gr. Grandson of Daniel and Frances
rcapli1@ibm.net
4440 Fairways Blvd 106
Bradenton, FL 34209
After May 1:
10499 Highway 9, P. O. Box 209
Effingham, KS 66023



Return to Trimble County Main Page