Photo 8 ... see description below photograph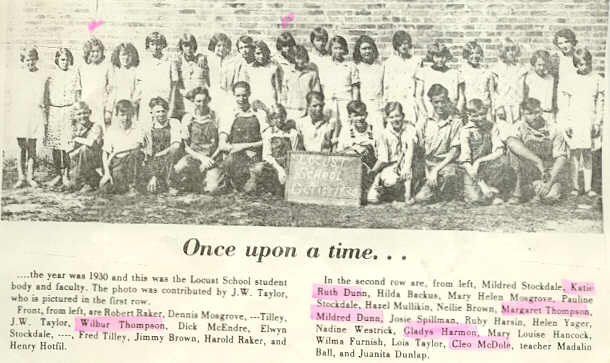 The Locust School(in Carroll county) in 1930. Children in the picture are: Robert Raker, Dennis Mosgrove, ..Tilley, J.W. Taylor, Wilbur Thompson, Dck McEndre, Elwyn Stockdale, Fred Tilley, Jimmy Brown, Harold Raker, and Henry Hotfil. Girls are Vesta Mae Dunn, Mildred Stockdale, Katie Ruth Dunn, Hilda Backus, Mary Helen Mosgrove, Pauline Stockdale, Hazel Mullikin, Nellie Brown, Margaret Thompson, Mildred Frances Dunn, Josie Spillman, Ruby Harsin, Helen Yager, Nadine Westrick, Gladys Harmon, Mary Louise Hancock, Wilma Furnish-Lois Taylor, Cleo McDole, teacher Madalin Ball, and Juanita Dunlap.

Additional comments about some of the people in this photo:
Mildred Frances Dunn and sister, Katie Ruth Dunn were the daughters of Bessie Mae Foster and Clarence Christopher Dunn. Their mother died when they were young, and after her death, they moved in with, and were raised by their grandparents James Willard Dunn and Ida Bell Starkey.
Katie Ruth Dunn married Ralph Yocum of Carroll County.
Mildred Frances Dunn married Meyer Abrams of New Jersey.
Submitted by Roslyn McLendon