OBITUARIES




Contributed
by Trimble County Researchers
and other sources




This page contains obituaries listed alphabetically by surname of the deceased, not by date. These have been contributed by others with an interest in Trimble County genealogy. Feel free to send us your Trimble County obituaries but please limit them to those prior to 1990.





Jennings, Violet A.
Trimble Banner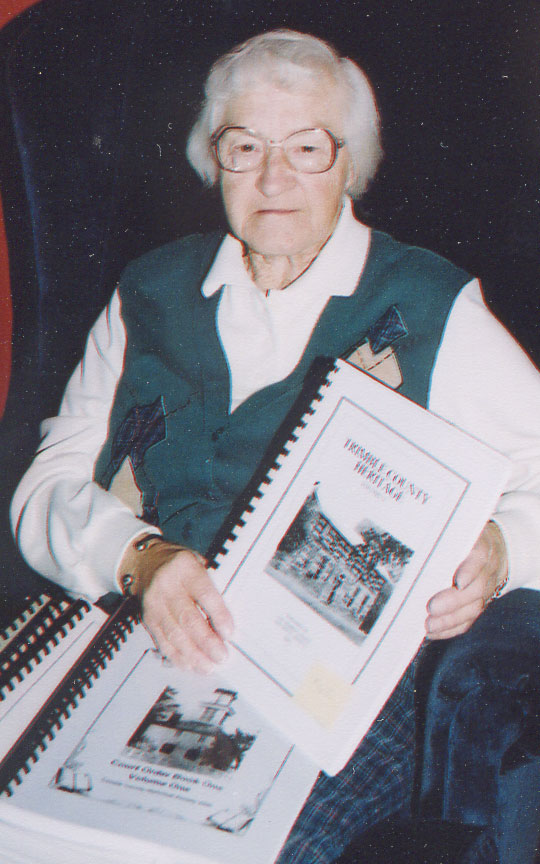 Violet A. Jennings, 78, Pendleton died Wednesday Nov 10, 2004 in Pendleton.
Bon Aug. 6, 1926 in Trimble County, she was the daughter of Joe and Sadie Straughn Morris. She was a member of Westport Methodist Church, a charter member of the Trimble County Historical Society, a member of the Kentucky Historical Society and a Kentucky Colonel.
Survivors include her husband, Norvin Jennings; three sons, Stuart Jennings, Gray, Tenn., Ronald Jennings, Pendleton, Dale Jennings, Pendleton, one brother, J. C. Morris, Pendleton, one sister, Reva Milby, LaGrange; four grandchildren, three acquired grandchildren, and 10 great, grandchildren.
Services were held Saturday at Ransdell Funeral Home in Bedford with Rev. Terry Burden officiating. Nancy Burrows played and Vickie Grace sang. Burial was at Bedford IOOF Cemetery.
The family request that memorial contributions be given to Children's Hospital or charity of your choice.

Anderson, Mayme Brooks

Mayme Brooks Anderson, 88, was called to her heavenly home July 20, 2004. She was born in Trimble Co. Ky on June 26, 1916 to Isaac "Ike" Brooks and Reva Louden Brooks. She lived In Indianapolis, In and attended West Morris Street Free Methodist Church . Mayme retired from H.P. Wasson Co. in 1975. Services will be at 10am in Flanner & Buchanan Funeral Center-Morris Street, calling there from 4pm-8pm on July 23, 2004. She was the widow of Thornton Anderson Sr. Survivors include three daughters Louise Rowland, Ruby E. Harding, Shirley R. Anderson-Cooper; three sons: Thornton Jr. Jeffery and Mark Anderson; brother Harold Everett Brooks of Henry Co. Ky. 20 grand children, 35 great-grandchildren, 8 great-great-grandchildren. She was preceded in death my three daughters: Billie Jo Swegman, Peggy Joan and Patti Ann Anderson, five grandchildren and 3 sisters; Eliza Earline Taylor, Ruby Catherine Coleman,Lucy Brooks; 3 brothers; Isaac Nathaniel, William Joseph and Lemuel Brooks. (Obituary contributed by Mrs. Anderson's daughter, Rosalynlea)




Bowman, Atwood

Daily Record (Elwood, Ind)
Thurs. January 12, 1905. page 6
Suicide by Unusual Method
Milton, KY., Jan. 12--J. Atwood Bowman, one of the best-known farmers of Trimble county, committed suicide in an unusual manner. Bowman mounted his horse and started for Hunters Bottom. About a mile out of town he dismounted. Going out on the ice, Mr. Bowman broke a hole and crawled into the water, drowning himself.
Contributed by Teresa Skaggs - thank you!




Myrtle Carter




Contributed by Teresa Skaggs - thank you!






Lizzie Bell Cox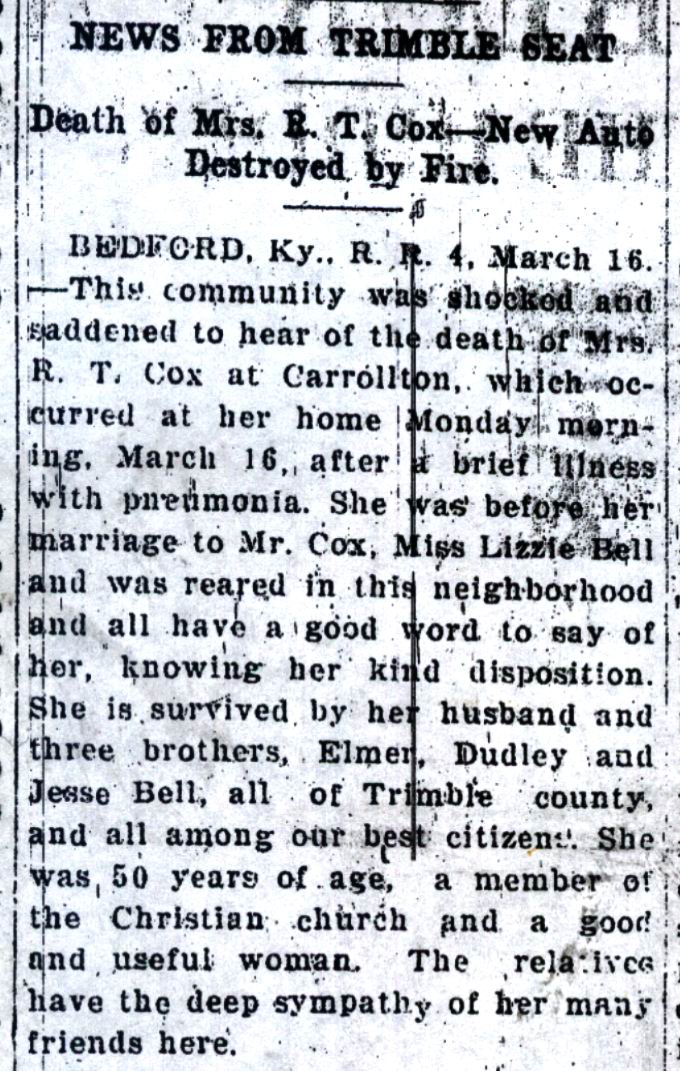 Contributed by Teresa Skaggs - thank you!




Davis, Mrs. Mary Emeline
Weekly Shasta Courier
Shasta, Shasta County, California
Saturday, February 6, 1886
ONO P. O., CAL Jan. 19th, 1886
ED. COURIER:--It now becomes my sad duty to announce to your numerous readers the death of Mrs. Mary Emeline Davis, a devoted wife and loving mother--consort of J. P. W. Davis. She breathed her last at her residence, near Ono, on Sunday night, at about 12 o'clock, P. M., January 17th. Mrs. Davis was born in Trimble county, Kentucky, on the 29th day of March, A. D. 1844--the daughter of Rev. F. C. Buchanan. She was married to Mr. Davis on the 31st day of January, 1863, in Howard county, Indiana. Mrs. Davis crossed the plains with her husband to California, in 1864, and landed in Healdsburg, Sonoma county, on the 15th day of June, '64, where she is well and favorably known. She is the mother of eight children, seven of whom are now living in Shasta county--three of whom are married, and are mothers, and four of the younger are left with their father. One, an infant dead, lies buried on Sunny Hill.
Mrs. Davis has suffered for several years from that dreadful disease, consumption. A few weeks before her demise dropsey set in and the two complaints were more than her frail body could stand. She died easy, as if passing into a gentle slumber. Four minutes before her death she called her husband to her bedside and told him that she was dying; these were her last words.
The funeral services were very feelingly conducted by her Pastor, Rev. W. S. Kidder, at the Ono church, on Tuesday, at 2 o'clock, January 19th--after which the remains were conducted to the new graveyard in Ono, and there interred. The reputation of Mrs. Emma Davis is so well known that it is hardly worth our while to state that she died beloved and respected--she was a member of the Baptist church, at Ono, and the members of that denomination assisted and attended the burial services as well as the interment. Mrs. Davis leaves several very young and beautiful children, and the general bereavement of the family is deeply felt by the general public. Mrs. Davis was a kind mother and a loving wife.

Contributed by Robin Bills, Cottonwood California




Fisher, Nettie Gertrude
Madison Courier, April 27, 1970

Funeral services for Mrs. Nettie Gertrude Fisher, 75, Bedford, Ky., will be held at 2 p.m. tomorrow at the Bedford Baptist Church, with burial in the IOOF Cemetery. Mrs. Fisher died at 12:30 p.m. Saturday at the Carroll County Memorial Hospital. A retired teacher, she was a member of the Kentucky Retired Teachers Association and the Missionary Society of the Bedford Baptist Church.
Survivors include her husband, Elmo; three sons: Bernard, Madison; Eldred, Bedford, Ky.; and Cecil, Milton, Ky.; three daughters: Mrs. Mary Prather, Toledo, Ohio; Mrs. Norma Dunlap, Bedford, Ky.; and Mrs. Lois Price, Campbellsburg, Ky,; one stepdaughter, Mrs. Virginia Lambert; one brother, Joe Callis, Otisco, Ind.; two sisters: Mrs. Allie Wheeler, Bedford, Ky,; and Mrs. Lola Rader, Phoenix, Ariz.; 17 grandchildren and two great-grandchildren. Friends may call at the Randsdell Funeral Home in Bedford
Contributed by Teresa Skaggs - thank you!



Mrs. Nannie Knox
Madison Courier
February 18, 1960
Mrs. Nannie Knox Dies at Her Home After Illness
Mrs. Nannie B. Knox, 75, died at 9:30 p.m. yesterday after an illness at her home at 202 Walnut street in this city.
Born in Owenton, Ky., she had lived here for th past 32 years and was the widow of Robert B. Knox, who died five years ago. She was a member of the In-As-Much circle of King's Daughters and the North Madison Baptist church.
Surviving are five daughter, Mrs. John Hertz, of this city; Mrs. John Raker, Carrollton; Mrs. Harry Renschler, Centerville; Mrs. John Winters, Freeport, Ill.; Mrs. Emery Nay, Wilmington, Ill.; two sons, Robert, city, and Chester, Sumner, Mich.; 24 grandchildren and 13 great-grandchildren. A son and a daughter who preceded her in death.
Services will be at 1:30 p.m. Saturday at Lytle mortuary with burial in the Moffett Cemetery. Friends may call at the Lytle Mortuary after 7:30 p.m. today.
Printed with permission of Curt Jacobs, General Manager.





Lane, Judge D. S.
Contributed by lane@forensicgroup.com - thank you!
Carrollton Democrat
Saturday, January 9, 1875
Death has again intruded his unwelcome presence in our community. The last cruel blow gathered home to his fathers, our old and esteemed citizen, Judge D.S. Lane, who died last Sunday morning at 5 o'clock. Saturday, Dec. 26th, Judge Lane left Bedford for his home, and was attacked that night with pneumonia, and lingered until last Saturday when he quietly expired. Judge Lane was nearly 79 years of age, but was quite active, and up to his last illness enjoyed much better health than is usual with men of his age. He has for years served the people of Trimble county in various public offices with credit to himself and the people who elected him. Judge Lane, under the old constitution, by virtue of his office - being the oldest justice - served as sheriff of the county and as presiding officer of the court, after which he was elected county judge, in which capacity he served the people for several years. At the time of his death he was one of the justices of this precinct. He was highly esteemed by the people of the county, and leaves a host of friends to mourn his loss.

George Fisher Leach
LEACH, George Fisher, 62, died 6 July 1950, burial IOOF Bedford. s/o late Mr. and Mrs. N. B. Leach. Survived by widow, Vinnie Leach, 2 sons, John C. and Maurice Leach, 4 step-dau., May Shirley, Nannie Shirley, Ethel Pecar and Maude Buchingham, 4 step-sons, Ephriam, Edward, Schyler and John Stinnett, 2 bro., John C. and Thomas Leach, 2 sisters, Cora Andrews and Gertrude Ogden.
George Fisher Leach was first married to Cora Frances Brewer. They had two sons, John C. Leach and Maurice Leach. After Cora died George Fisher married and widow named Vinnie Stinnett.
Thanks to Gordon McClure for this obituary.



MRS. LIZZIE LOUDEN
THE TRIMBLE DEMOCRAT
BEDFORD, KENTUCKY, THURSDAY, OCTOBER 9. 1913. NUMBER 27.
Mrs. Lizzie Louden died at her home at Hatton,Ky., Oct 3, 1913. The remains were brought to the Campbellsburg Cemetery for burial, and Rev. J. M. Walker conducted the funeral services at the Baptist church there. She had united with that church at Providence when about 15 years old, and she lived a true and faithful life. Mrs. Louden was a daughter of Mr. and Mrs. Sam Demaree, of this county. She married Noble Louden Nov. 17, 1912. Her friends and family have one consolation, and that is they may so live as to meet her hereafter for "She lived for those who loved her, Whose hears were kind and true: For the Heaven that smiled above her And awaited her spirit too: For all human ties that bound her: For the task that God assigned her: For the bright hopes lift behind her And the good that she could do." Irvin Louden.
Irvin was Noble's brother.





Miller, Gilbert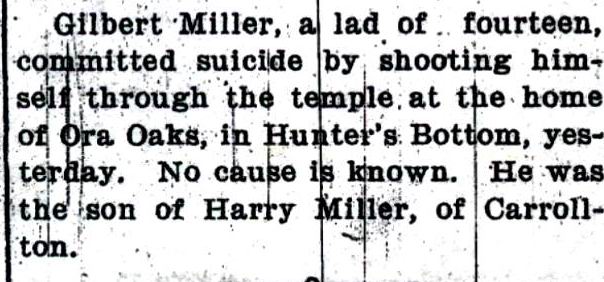 Contributed by Teresa Skaggs - thank you!




Parker, Noah
Contributed by lane@forensicgroup.com - thank you!
Carrollton Democrat
Saturday, January 23, 1875
Mr. Noah Parker, an old and highly esteemed citizen of Trimble, died on the night of the 16th inst., in the 77th year of his age.
Within the last sixteen days Trimble county has lost five of her oldest citizens - aged respectively: Noah Parker, 77 1/2; D.S. Lane, 78 1/2; John Richmond, 79 1/2; Henry Fix, 84 1/2; Martin Pierce (colored) 101, making an average of 84 1/5 years, and a total of 421 years.
-------------
Carrollton Democrat
Saturday, March 13, 1875
In Memoriam
Of Noah Parker, who died January 14, 1875, at Bedford Springs:
Through days well spent in prayer and praise,
In words and works of love,
God led his feet by joyous ways
To His blest light above.
Not all serene his blameless life -
For still to man is given,
To reach through care, and woe, and strife,
This heights of rest in Heaven.
But when His peace so pure and deep,
Dwells in the faithful breast,
Though lips may quiver and eyes may weep,
No storm can break its rest.
And such his lot; our hearts bereft,
Still feel this golden truth,
The memories his dear life hath left
Shall bear eternal fruit.
O, loved and lost! from rest so sweet,
Still lift to God thy prayer;
Guide still our weak and wandering feet
To light and safety there.
E.R.P.
Bedford Springs, March 1, 1875

(Note - date of death differs is articles)

\\

Ruby Louise Pierce Shepherd Reed


Irene Taylor
Irene Taylor, 80. Boswell, IN, Irene Taylor, 80, of Boswell, d. at 5:25 p.m. Fri. June 3, 1005 at St. Anthony Health Care.Born April 28, 1925 in Kentucky, she had lived in Boswell since 1945. She attended Beech Grove School in Wayne Co. Ky. Her husband, Kenneth Reid Taylor, died in March 1976.
Mrs. Taylor was a homemaker. She baked pies at Fix's Restaurant in Boswell for several years. She was a member of Boswell Church of Christ and Boswell Senior Citizens Club, serving as secretary five years and treasurer for five years. She was an avid fan of Purdue basketball. Surving are two daughters, Shirley Gerlack of Lafayette adn Londa Taylor of Boswell, a brother, Lenville Shepperd of Boswell, and a sister, Lucille Eversole of Bellville, MI.
Thanks to Roslyn McLendon for this obituary.




Return to Obituary Main Page