History of the Treend House
The story of the Treend House must begin with Erastus Beebe, whom with his brothers Henry, and Alexander founded what is now the City of Richmond Michigan. They came from Chatham New York in 1835, and received their Land Grant from President Martin Van Buren. The three brothers walked from New York to Cleveland Ohio where they boarded the steamer Robert Fulton, and came to Detroit. Erastus, and Henry walked to Mt. Clemens and then to Armada, where they worked their way through the wilderness along the Indian Trail now known as Armada Ridge. Erastus owned the land where the village of Richmond stands, and laid out the Plat of the town, and sold Lots for $25.00 and up. Erastus was a blacksmith, and a distiller by trade.
Ownership timeline:
01 Sept 1874 Erastus Beebe sold lot 8 block C of Erastus Beebe's third addition richmond to: Edward P. and Blanche G. Odeon for $175.00
26 Mar 1879 Edward Odeon and wife sold the home to: Seth and Lydia Lathrup for $600.00 Seth had a Grocery and Hardware Store on N. Main near Jefferson St.
23 Nov 1881 Seth Lathrup and wife sold the home to: James M. and Jane P. Hathaway for $700.00 James is kin to Hiron Hathaway, 1st Richmond Supervisor 1838.
May 1885 constructed Fire Dept Engine Room, and lock up. 1895 Richmond Water Works constructed with four wells.
21 Jun 1899 James Hathaway and wife give lot 7, and 8 to their daughter Julia Welding for $1.00 1900 Electric lighting system installed, 24 hour service established in 1921
31 Mar 1916 Edwin J. and Julia Ann Welding gave lot 7 and 8, and 110 acres to their daughter Nellie Fenton for $1.00. Nellie was married to Erwin Fenton who gave the house to their son Percy W. Fenton, whom was married to Gladys "Ma" Burke Fenton. Percy was a Commission Agent for the Standard Oil Co.
21 Jul 1956 Gladys Fenton gave the house to daughter Marion Treend for $1.00. Her husband Verlin Treend was employed by the Hirt Agency in town.
Verlin and Marion Treend sold the home to Jack E. and Victoria Treend.
Jack and Victoria sold the home to their son and his wife Rob and Jeanie Treend.
1990 Rob TOOK the Garage from across Forrest St. And placed it along the eastern edge of the lot.
Sept 1999 The home's chain of family custody was broken, and the home was purchased by Gary and Deborah Packard.
2002 After meeting the city's requirements for a Home Occupation, and having the house zoned "Residential" Deborah realized a dream and opened up a show place for her art work: LA BOUTIQUE sur la rue de parc. A proud member of the Richmond Area Art Association the Artist displays her wares in the shop, as well as in Art Shows through out the area. Deborah's work can be viewed on line at www.la-boutique.net.
The History was compiled thru information from the Treend Family, The Macomb County Register of Deeds, Sketches of Richmond at the Lois Wagner Library, and the Macomb County WWI Draft Registration Cards on line.
Photos of the Treend House through it's history: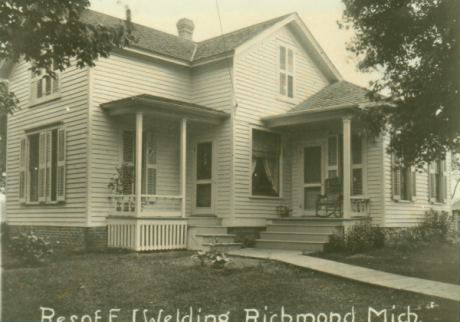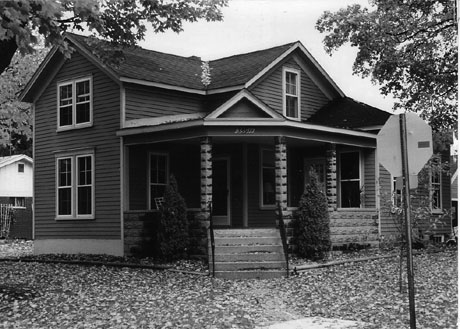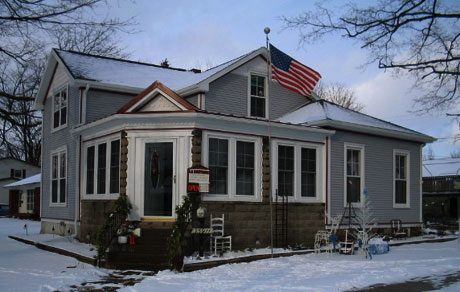 Thank you to Gary & Deborah Packard for contributing this information about their Macomb County, Michigan historical home.



Return to Macomb County Historical Homes


Return to Macomb County main page