Mount Clemens, Michigan

The Bath City of America
The Olympia Bath House
The Olympia Bath House was considered to be one of the most handsome bathing establishments in the country. The Olympia opened its doors on June 1, 1903, and was located at 84 Cass Avenue next to the Fenton Hotel, an exellent location on one of the main and shady streets of the city.
Considered one of the most architecturally interesting structures relating to the bath industry, the Olympia Bath House was constructed of white glazed brick with stone trim. The Corinthian-type columns and pilasters rising two stories over the entry gave it a most impressive appearance. Charles H. Parsons and Thomas E. Matthews were the proprietors.
The lower floor was entirely devoted to bathing, office, reception rooms and halls. The upper floor was divided into a dozen or so commodious rooms for the patrons who desired or needed to be close to their baths. The lobby was both spacious and elegant, floors laid in the most beautiful tiling, and furniture and appointments selected with rare taste and judgement with consideration given to durability as well as beauty. A sizeable verenda facing Cass Avenue, supplied with numerous rocking chairs, gave guests the opportunity to relax, visit, and watch all the activity on this busy thoroughfare. This bathing establishment had Italian marble partitions and wainscoting, 40 porcelain tubs, each 7 feet and 6 inches long insidee. There were two vapor baths and 32 private cooling rooms, two gymnasiums and private rooms for the attendants.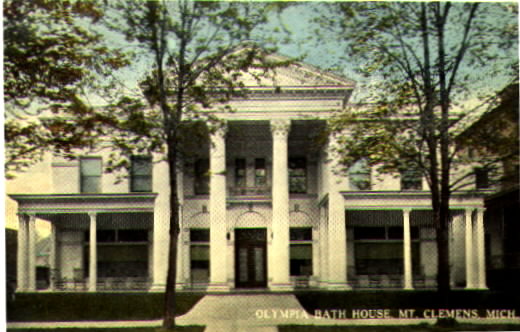 The ladies section was at the left of the building and consisted of reception, cooling and dressing rooms, bath-halls, and bath rooms. The gentlemen's section was on the right side and substanttially the same. Every kind and style of bath obtainable elsewhere was available at the Olympia and at the same rates prevailing throughout Mount Clemens. The depth of the mineral well at the Olympia was 1,265 feet and its complete composition with mineral analysis, temperature and related details was available.
In 1910 the Olympia Company was capitalized for the purpose of purchasing Hotel Fenton. The entire front the Fenton Hotel was rebuilt in bricks with a sun room on the front porch. The name of the hotel was also changed to the Olympia. In 1925, the Elkin family (father Samuel, sons Max and Joseph), purchased the Olympia. Samuel Elkin had come to Mount Clemens in a wheelchair about 1907, took the baths, and remained to go into business.
About 1936 the Olympia Hotel and Bath House were purchased by Samuel Kraemer who previously had owned an establishment at 25 South Avenue and 89 Cass. The Kraemer family operated the Olympia until it was purchased by the city and torn down in 1955 to make a parking lot. The parking lot was recently rebuilt and is named "The Roskopp Parking Lot."


St. Joseph Sanitarium - includes photo!


Colonial Hotel & Bath House


Return to Bath City Page


Return to Macomb County